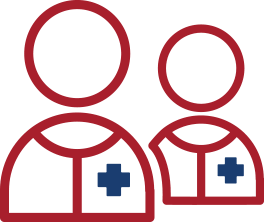 Training a generation of young doctors, nurses, scientists, engineers, and technicians from the Middle East and Africa, at the highest international standards.
With comprehensive training programs for surgeons from around the world, we are building cardiac capacity globally for the future of excellence in care. We are committed to developing the next generation of pioneering surgeons and cardiologists – following in the footsteps and model of our founder, Magdi Yacoub.
The complexity and quantity of cases seen by our teams, combined with the sophistication of treatments provided, makes us one of the most sought-after training programs in the region, as well as drawing students from further away. Each year, we offer structured training for approximately 550 professionals and scientists, who are able to learn from our team.
While we are eager to engage with practitioners from all countries, we are particularly proud of our work building capacity in developing countries where no or few cardiac specialists exist.
This is essential to our work, because we know that it would never be possible for us to reach every child in need of care, no matter how deep or far our network stretches around Africa and the Middle East. To make a truly lasting, sustainable impact, capacity must be elevated in every country – and at the Magdi Yacoub Global Health Foundation, we are honored to lead the charge in advancing the future cardiac health of our world, for the people who need it most.
People are very committed to learning the most cutting-edge medical research and using that in their day-to-day delivery of care. So that is one thing I really appreciate about the center."
-Agnaby

Keep up to date on our programs, impact and patients by joining our mailing list.
"*" indicates required fields
Your gift can ensure that the next patient in need who comes through our doors will be able to receive expert, comprehensive and truly excellent care. Please open your heart today to join us.